Why Rent a Trade Show Booth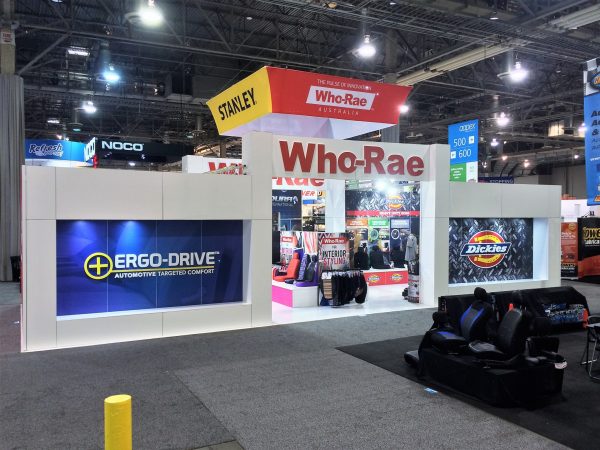 For any business owner looking to broadcast their brand at a trade show or convention, the placement and production of your trade booth is essential for gaining any sort of traction with potential customers. Whether it's attracting the eyes and mind of a passersby with flashy booth design, or engaging with potential customers and a welcoming environment, the right trade booth is a make-or-break for any business attending a trade show.
Utilizing a reliable exhibit booth rental service in Las Vegas like Exhibit Pros will revolutionize the way you approach trade shows and convention exhibits, as well as the results you get from attending them. Renting will provide you with the quality you need, while helping you save the ongoing expenses of shipping, handling, storage, damages, refurbishment, and extra days of hotel booking. Renting also gives you the flexibility to reconfigure your exhibit design and size as needed. You can also write off 100% of your cost every time.  Learn more about the Exhibit Pro's trade booth rental process, and how our team can help your brand. 
Why Rent a Booth with Exhibit Pros?
Impressive Personal Design
At Exhibit Pro's we personalize your trade show exhibit experience by customizing our turnkey booth rental packages to meet your needs, and the merits of your brand. We can also create a custom booth rental package specifically for you based off of your vision or your own design. Stand out on the show floor with Exhibit Pros as your partner, and attract the customers that will grow your brand.
Save Time and Money
As any business owner knows, time means money. With all the items your booth will need under one roof, it's easy to find and utilize the things you need—and fast. You can achieve the impressive results you expect with each trade show attendance, with our convenient turnkey or custom rental packages, all while saving time, money, and hassle.
Extensive Catalogue of Booth Options and Items
We offer an extensive selection of exhibit rentals from 10 x 20 exhibit rentals to custom designed exhibits beyond 20 feet at fair prices that include freight to the show, union set-up and dismantle.
We also rent everything you would need to put the finishing touches on your Las Vegas convention or trade show booth such as audio/visual, computers, graphics, furniture, plants, flooring, hanging structures etc. If you need something you don't see, just ask. Exhibit Pros rental program offers it all to save you time and money.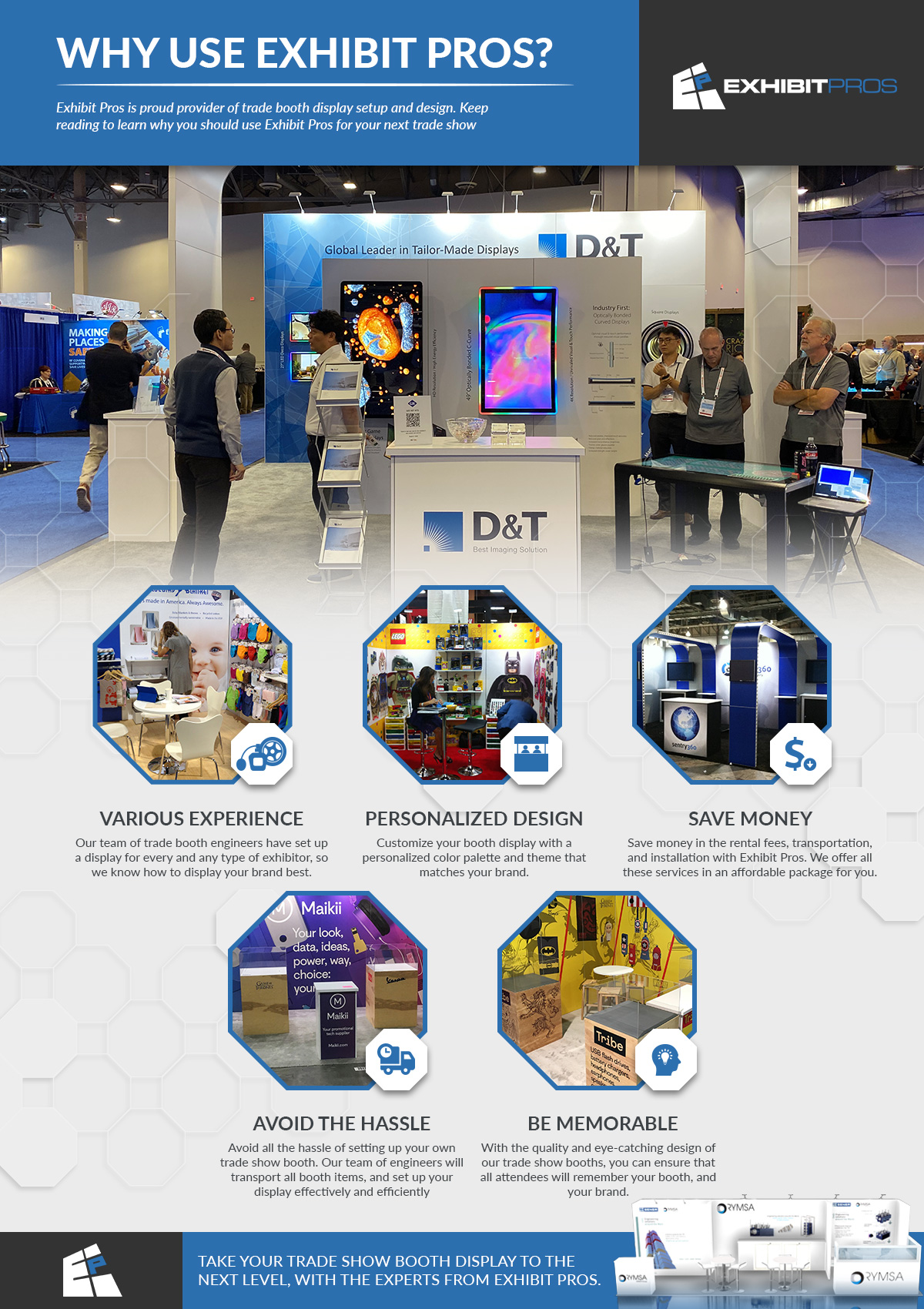 No-Hassle Booth Construction
At Exhibit Pros, we provide the crew to install and dismantle your trade show booth rentals. Simply show up and sell your brand to potential customers. After the show, no need to waste time dealing with the logistics of shipping your booth; we draw up your electrical plans, fill out your electrical order forms, and consult you on placing your orders for show services with the general contractor. Focus on the stuff that matters and leave the booth construction to the professionals (us).
Because you don't have to worry about putting the booth up or taking it down, you can save on the costs of hotel, food, and travel. Let us deal with the details and logistics so you can get back to business at your trade shows and events.
No More Shipping and Storing
Buying a trade show display and shipping it around can cost you an arm and a leg. Not only that, but storing a portable display when you're not using it can feel like you're throwing money away. By allowing our experts to design you a booth, we can create it here in Vegas and have it ready for you when you get here, saving you time, effort, and money. Exhibit Pros will even store your graphics for you till the next show, saving you even more time and money for your next Las Vegas trade show.
Get Your Exhibit Booth Rentals in Las Vegas from Exhibit Pros!
Achieve impressive results with our convenient turnkey rental packages or custom-design packages while saving time, money and hassle. Choose one of our turn key rental packages or call us today for a quote on a custom designed exhibit rental.
Why Rent a Trade Show Booth
was last modified:
April 25th, 2022
by