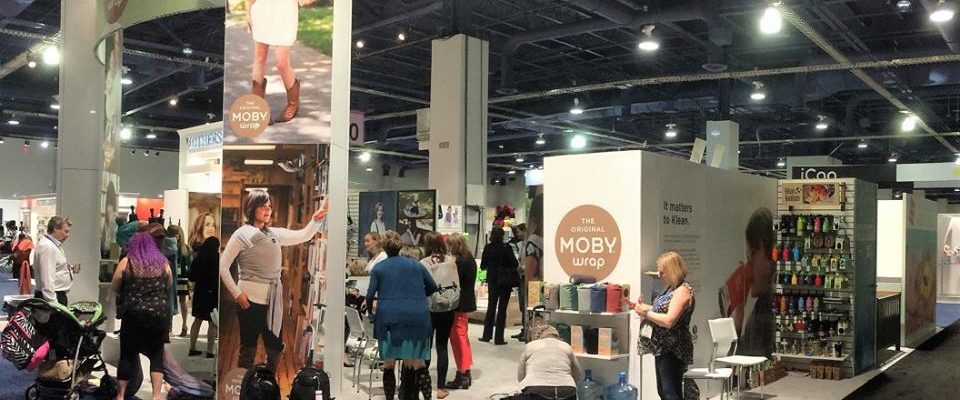 12 Helpful Trade Show Tips for Exhibitors
You created your product, your website is up and running and you have a trade show coming up. What is the best way to showcase your new product? How do you make your exhibit pop so that people will notice you, try your product and go out and tell their friends about it? Let's start with the booth. What is the best way to highlight your product, draw attendees to your exhibit and make them stay awhile?
12 Helpful Tips   
You want your display to bring people in and understand your brand. Here are 13 tips for your trade show booth to do just that. Having a contest 
Take a tip From Carrot Top, Use Props!
Carrot Top is a comedian here in Las Vegas who uses props. It works for him and it will work for you! Using large props like Legos or a large Coca Cola bottle with its famous colors will immediately stand out. If using a lego prop such as a model of your product made of legos, have a lego table for people to stand and create their own to take home, or just build to have fun. A large, stand-up Coca Cola bottle-type prop that displays the brand not only brings in customers but can be used over and over and can even be displayed in the office or store. 
Use lighting and fabric to create a separate space
Building separate, private spaces create high interest on what is inside. You can also stir up intrigue with opaque fabric and a velvet rope so people can get a glimpse but must wait to go inside for the whole experience, creating mystery and providing time to talk about your product. 
Demonstrations increase sales
Do you make smoothies? Are you selling a veggie chopper? Doing demonstrations of your product in action will get and keep people's attention, especially if there is something to taste at the end!
Hospitality pays off/Create an inviting space to increase traffic
Being hospitable is a welcoming trait whether at home or at a show. Offering comfortable seating or having fresh baked cookies and tea or lemon water on hand is a great way to attract customers! Remember to have a garbage can nearby so they can dispose of their trash. Adding a garden or wall farm of succulents (could sell them too) will draw in a crowd if only to get some nature in the sterile convention hall. 
Utilize Floor Space
Floor space is a great way to add color, separate spaces or lead people into your booth. Carpets can add color, different colors/types of flooring can enlarge, enhance and even enchant your customers. Interactive flooring encourages people to stay longer. 
Provide relief to tired guests
Providing a five or ten-minute complimentary massage to convention-goers will relax them and the line that forms could be right in front of your booth so they can read about your product and have plenty of time to ask questions, write down their email address, etc.
Free advertising! 
Make a photo op wall for people to post on their social media sites. Make sure you post the correct hashtag so your customers can find you. The photo op could be as easy as using a giant cardboard cutout, like the ones they have in movie theaters. These are inexpensive, yet can give exhibitors a ton of free exposure on social media.
Offer interactive experiences
Have a craft to make pertaining to your company or a coloring sheet to color with your logo on it for them to take home. Everyone loves free stuff and it's even more fun if they craft it themselves. Plus, it gives kids something to do so the parents have a few moments to chat with you. Or invest in a prize wheel to spin to win pens or things pertaining to your product imprinted with your name and logo. Also, having a big-ticket item give-away, (such as an iPad) will attract customers and keep them coming back to check-in. 
Create a setting for your brand
If you offer farm-fresh food, make a farm setting complete with cows and growing vegetables or flowers. If your product is from the sea, you could do an underwater theme. If you sell trailers, set up a model trailer and make a cozy "campsite" complete with camping chairs and cold sodas, just make sure beforehand that you will have space to drive the camper in! 
Gather a crowd with entertainment
Having a live band or a singer with a guitar can keep people entertained and happy. A portrait or caricature artist is a good way to draw them in. A magician doing exciting magic tricks will keep the crowd spellbound. 
Create a learning space 
Include areas for group learning and educate your audience on your product. Have a space for group talks with chairs or other seating arrangements and a separate, smaller space for private talks, such as answering specific questions.
Check out other booths
If you get a chance, the best way to get up-to-the-minute ideas is to walk around and experience other booths. Check out where the crowds are gathering and why. Which booths intrigue you? What, in their booth, makes you want to know more about their brand?  Take note and add it to your booth for next time.
Rent a Booth at Exhibit Pros
Creating an eye-popping, amazing exhibit is a process, and there is always room to improve. Once you have an idea of what you want and it's time to rent a booth, contact Exhibit Pros.   We are here to help you conceptualize your custom, made-to-order turnkey exhibit booths. Get you ready to wow your clients at your next convention!            
12 Helpful Trade Show Tips for Exhibitors
was last modified:
February 5th, 2020
by
---