Temporary Vaccine
Point of Distribution (POD)
About Exhibit Pros
Nationwide Services Since 2008
Exhibit Pros is a Las Vegas based full service exhibition company. We specialize in the fabrication of custom designed displays and exhibits for conventions, trade shows and special events. We are redirecting our unique skill set and expertise in design and fabrication to rapidly deliver temporary point of distribution (POD) vaccination structures to aid in the COVID-19 crisis. We understand traffic flow and space planning in order to maximize the efficient use of available space. Our turnkey services include project management, design, shipping/logistics, installation and dismantle at the speed of light. It's what we do everyday!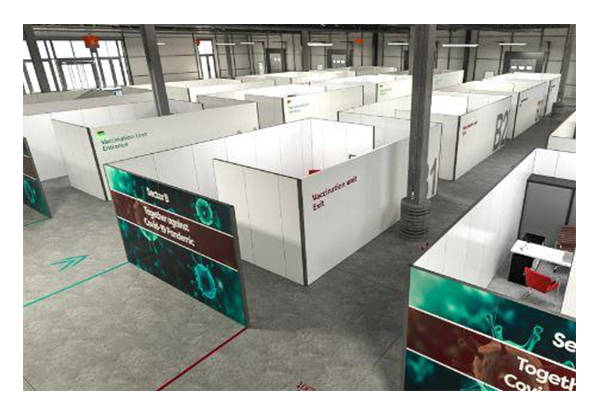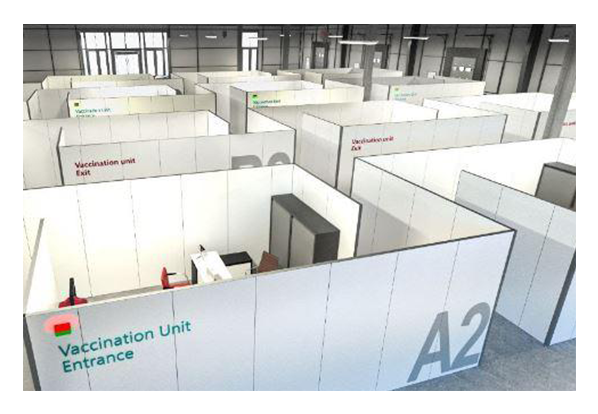 Product Focus
Temporary vaccination point of distribution (POD) sites address the issue of overcrowding hospitals and doctors offices for the distribution of the Covid 19 vaccine. Establishing temporary POD sites for vaccination addresses capacity issues and capability gaps in health care facilities. Temporary POD sites for vaccination also address social distancing issues.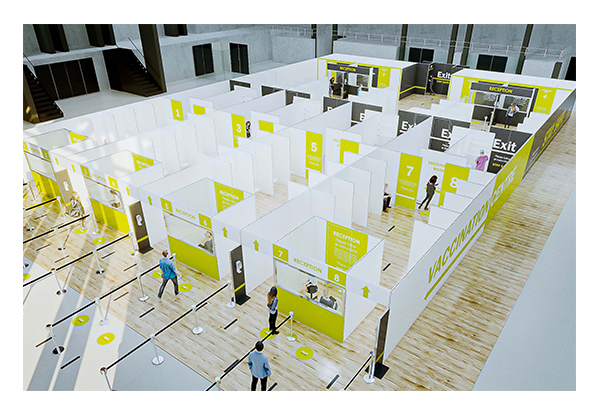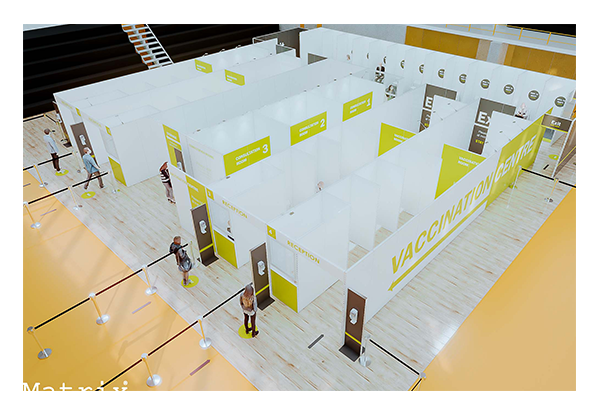 Partnership
We are looking to partner with state, local, tribal, and territorial (SLTT) entities as well as traditional health care organizations such as individual hospitals, groups of hospitals or health systems, local communities, health departments, etc. Partnerships can also be established with any entities that have the need to convert/retrofit fully functional facilities into temporary locations for vaccine distribution centers.

Flexible System
We can design and quickly build quality temporary POD structures that can turn any indoor space, commercial tent or location into a low-cost vaccine POD center.
Temporary POD vaccine structures can be set up in many different types of buildings or structures including hotels, airports, gymnasiums, civic sports centers, schools, health clubs, convention centers, community centers, commercial grade tents, etc.

Turnkey Services
Our services include structural planning, design, build, delivery, installation and dismantle. We can also supply commercial grade tents and functional components such as furniture, signage, storage cabinets, audio visual and more. Exhibit Pros is a Las Vegas-based full-service company that provides ervices nationwide.

Cost-Effective Solution
Once a potential site is identified our staff can make recommendations on a purchase or rental option. We can work within budget allocations and temporary vaccination point of distribution sites (POD) could be operational within days of project approval.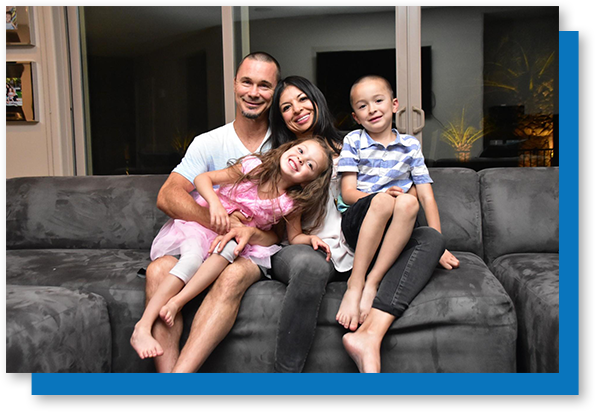 Proudly Family Operated
Hi, I'm Andy Freeman
In 2008 during the last economic crisis, my wife Laura and I established Exhibit Pros, since 2008 for the past 12 years, we have operated a thriving exhibit house business. We specialize in the fabrication of custom designed displays and custom trade show exhibits for conventions, trade shows, and events with a white glove experience.
Our mission is to build trust, long-term relationships and exceed client expectations by delivering accurate and reliable services each and every time.
Please visit our website to see our work and outstanding reviews at www.exhibit-pros.com/video-testimonials/