The Las Vegas Licensing Expo: Where You Can Network & Increase Your Revenue Streams

The process of finding brands to partner with for licensing agreements can be extremely tedious. It comes with a lot of research, many conversations, and ultimately, too much energy. The more time spent trying to decide if a brand seems like the right fit, the less time you have to continue expanding your revenue streams.
The Las Vegas Licensing Expo is your space to explore brands, build relationships, and secure licensing agreements – all in one place. You get to streamline an otherwise lengthy process by leveraging the effort the expo puts into creating a successful event. With top retailers like Amazon, Target, Forever21 (and more) 
attending
 this year's event, you don't want to miss out on the opportunity waiting for you.
The Las Vegas Licensing Expo
The Licensing Expo is both an in-person and online event, though, you shouldn't overlook your chance to showcase your brand with your exceptional trade show booth design in-person – that's how you really draw people in and set your brand apart.
In person, the event is taking place from May 24th through May 26th at the Mandalay Bay Convention Center in Las Vegas, Nevada. You also have the ability to participate online from May 25th through June 3rd. Given the opportunity the Licensing Expo provides, attending the expo both in-person and online will certainly be time well-spent. Afterall, if you are already prepared for the event, why not increase your potential for revenue growth by being present in both formats?
3 Reasons You Should Exhibit at the Expo
As is always true when you are marketing your brand or networking in your industry, you are dedicating valuable time to something that doesn't necessarily come with guarantees. While the expo can't guarantee you a phenomenal licensing agreement, the Las Vegas Licensing Expo gives you every opportunity to secure one. Here's why exhibiting at the expo is worth your investment of time and resources:
Attendance is free: Given attendance is free for non-exhibitors, the expo is an extremely attractive event for attendees as it only has upside potential for them. Even if they don't secure a licensing agreement with a brand, they were able to form connections at no cost. What that means for you is a high-traffic event that brings potential manufacturers and retailers directly to you.
You can reap the benefits of the expo marketing: The Licensing Expo handles the marketing for their event, bringing in top brands and retailers through their efforts. You simply get to  show  up  and showcase what you have to offer with just the cost of the booth space (and your investment of time).
Pre-event meeting scheduling: The expo gives you a channel to schedule meetings before the event even starts. They have a free Matchmaking Service that allows you to explore the expo attendees and arrange meetings with manufacturers, retailers, or wholesalers proactively.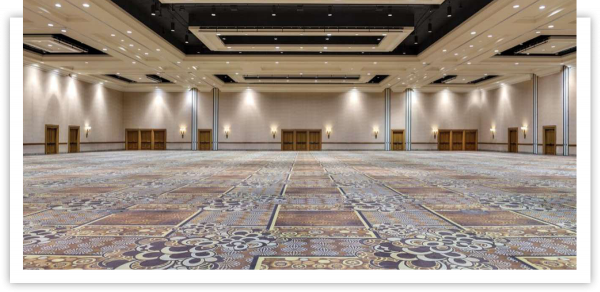 Making the Most of the Licensing Expo
The Las Vegas Licensing Expo has the potential to be extremely beneficial to your business if you make the most of the opportunity. Of course, registering for the event and exhibiting will already put you in a better position than if you didn't attend, but when you approach the event with intention, you can see the positive impact well into the future. Here are our tips to ensuring you optimize your event success:
Take advantage of the Matchmaking Service ahead of the event. With so much competition for top manufacturers and retailers, getting their attention early is extremely beneficial.
Ensure your trade show booth design stands out. Your exhibit should be personalized to highlight your brand perfectly. It's your first impression, so you want to make sure it uniquely represents your brand. With amazing, customized, trade show display rentals available from Exhibit Pros, you can be confident your exhibit will stand out in the crowd.
Add value when people visit your exhibit. You are in competition with the other exhibitors, so a manufacturer choosing your brand over the one next to your booth hinges on the experience a visitor has at your exhibit. Spend time identifying how you can make your exhibit interactive and enjoyable for attendees.
The opportunity to expand your revenue streams into entirely new spaces is right in front of you. Register for the Las Vegas Licensing Expo today! Using our exhibitor tips, you are sure to find success at the event.
---
The opportunity to expand your revenue streams into entirely new spaces is right in front of you. Register for the Las Vegas Licensing Expo today! Using our exhibitor tips, you are sure to find success at the event.
The Las Vegas Licensing Expo: Where You Can Network & Increase Your Revenue Streams
was last modified:
May 3rd, 2022
by
---