Creating Unique Trade Show Booth Packages for Each Client for Over 15 Years.
Deciding which exhibit company to work for can be one of the most important decisions you make as a business owner.  Our purpose is to earn your trust and your business for many years to come.  Over the years we have heard from many new clients how bad their customer service experience has been with other exhibit companies. At exhibit pros quality customer service and the quality of the product provided is extremely important.  We work with our clients to establish and maintain a brand personality for their exhibit and then develop ideas that encourage their active engagement to help them represent their products and brand.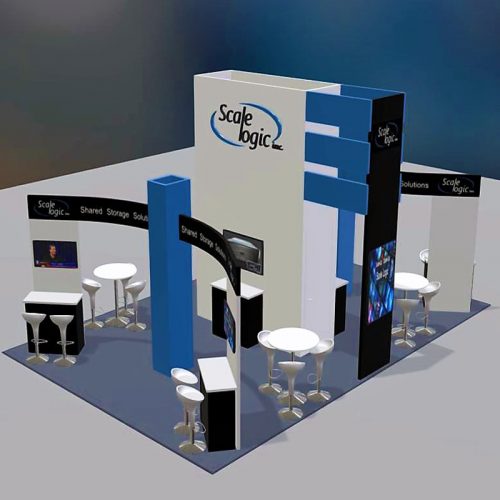 After we have an initial phone conversation we like to schedule a video conference where we can further draw or sketch with you a rough draft of what you are looking for.  During this initial analysis you will work with an experienced project manager that will dig deeper and discuss your current exhibit needs, show schedule and budget. Lastly, we develop a competitive plan and strategy coordinating all the discussed elements.
Our goal is to make this process seamless for you.   To do this we work with you to create trade show booth packages that works for you.   From 10X20 Rental Packages, to Large Rental Packages, we customise everything in the package according to what you need.  We also offer Furniture Rental, Audio Visual Rentals, as well as Exhibiting Accessories and if there if something we don't have we work to find it.  We also handle as many of the logistics related to your display as possible. this allows you to focus on achieving your company's outcomes and goals without having to lift a finger when it comes to your display.  To view some of our previous work visit our website today!
Creating Unique Trade Show Booth Packages for Each Client for Over 15 Years.
was last modified:
May 14th, 2019
by
---